Michael Eavis launches Somerset Levels dredging fund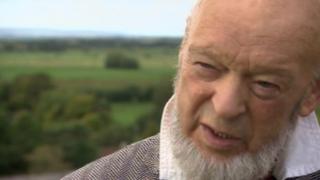 A £4m campaign is being launched by Glastonbury Festival founder Michael Eavis to prevent future flooding on the Somerset Levels.
The Levels flooded badly last year leaving farmers unable to plant crops or graze livestock for several months.
Many farmers blame silted-up rivers which stopped water flowing off the land and formed swamp-like conditions.
The Environment Agency has said dredging rivers was not a long-term solution to deal with flooding.
'Shambles'
Mr Eavis, who has a dairy farm at Pilton, near Glastonbury, said: "They used to have half a dozen drag lines that would be going throughout the winter.
"It should be so simple to introduce a system that works but it's all been an absolute shambles.
"Unfortunately the maintenance of the Levels has been an example of central government interference, when it should have been left to the people who know what they are doing.
"One of the benefits of dredging is that you build up the banks at the same time so it's a double whammy effect."
The fund is being organised by the Royal Bath and West of England Society.
Edwin White, from the society said: "This situation has been allowed to develop over the last 10 or 15 years and now it's reached a head with heavy rains of 2011 and 2012.
"A wet winter this year will add to the destruction."
About 1,000 farmers manage the Somerset Levels, which covers 170,000 acres of land.
Although the Environment Agency has said dredging is not a long-term solution, it has pledged £300,000 towards the fund.
The Wessex Regional Flood and Coastal Committee and Somerset County Council have also pledged the same amount.
If £4m is raised, the hope is that dredging can start by next spring or summer.