Rodden Lake Stream Meadows: Community hopes to buy land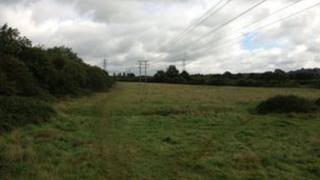 People in Frome have begun a campaign to buy privately-owned meadows so they can be used by the whole community.
Rodden Lake Stream Meadows is to be sold via auction on 24 September and has a guide price of £200,000.
Campaigner Elaine Ewens said: "It would be fantastic as a public space - for dog walkers, for wildlife but also as a green lung to the centre of town."
Frome Town Council is to decide whether to pledge £40,000 to help buy the land near Styles Hill.
Main risk
Until now, the owners of the meadows have allowed people to use all of the land, even though a public right of way only exists along part of it.
Ms Ewens said it was "possible" the land could be bought for housing.
"That's less likely because there's railway lines, there's pylons, there's a bypass, but that's still a risk," she said.
"The main risk is that it will be developed or managed in a way that's unsympathetic to what is already here - stunning hedgerows, with hawthorn, elderberry and rosehip.
"The meadow itself, if it's not managed in a traditional way, all those rich meadow flowers would be lost."
Town clerk Paul Wynne has recommended councillors support the efforts to buy the 29.5 hectare (72 acres) meadows.
"The current owners have been very, very good-natured and have posed no problems over the past generation allowing people to walk over it," Mr Wynne said.
"If someone wants to buy it, the public access could and would probably be under threat."