Rare black bees rescue from oak tree in Yeovil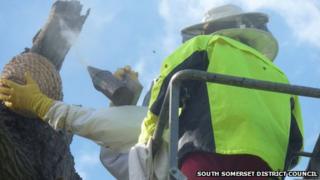 A colony of rare black bees have been rescued from an oak tree after one its main branches fell off and disturbed the hive.
The hive in Penn Hill, Yeovil, was reported to the Somerset Beekeepers' Association who assisted staff from South Somerset District Council.
The insects were safely moved into a man-made hive that had been installed at the top of the oak tree.
There are believed to be just seven black bee colonies in the UK.