Somerset learning disability care users worried by cuts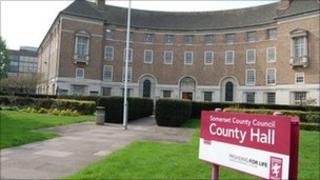 Impassioned speeches have been made by people who use the adult learning disability service in Somerset ahead of planned £1.4m cuts.
The service may be outsourced by the council as part of a "streamlining process" to "make it more efficient".
Service user Phil Dyer said: "Few of us would be happy to have profit-making companies providing our support."
Councillors have opted to extend the public consultation to users and to continue exploring tendering options.
The options are to keep it in-house, run it as a not-for-profit organisation or find an external company to run it.
'Complex needs'
In a speech to the committee, Mr Dyer, who chairs the Somerset Advocacy Group, added: "How can you decide what the choices are when you haven't asked us properly what we want?
"We might have some good ideas about the services, you need to listen to us and include our ideas too."
Another service user, Steve Hosken, from Taunton, who was given help from the service to find a job, said: "It costs a lot of money for us to have an ordinary life because we have a lot of complex needs.
"All we want is an ordinary life, like other people - to go shopping, meet friends, go on holiday, have a paid job, go out to the pub or go out for a meal.
"We need support to do these ordinary things - that you enjoy - we are not asking for a luxury life, just a good one."
About 900 people use the service in Somerset.
Cabinet member William Wallace said: "It's not cutbacks, it's making the service more efficient and making the service better for our customers and that's really the direction we want to go in.
"It's time for a change and we must improve."
He added the consultation would be extended for another 10 weeks, where they would ask for views from people's families and friends to help find out the detail of what service users' wanted.
A final decision on the future of the service is set to be made in February 2014.