Dredging fund nears £1.7m target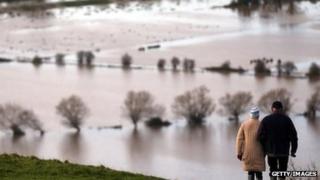 A fund to pay for the dredging of two rivers to prevent flooding on the Somerset Levels is nearing its £1.7m target.
Somerset County Council has now agreed to pledge £300,000 towards the total cost, if the fund secures £1.4m.
About £600,000 has already been promised by the Wessex Regional Flood and Coastal Committee and the Environment Agency.
The council has said it hopes the sum will encourage others to contribute.
'Extreme conditions'
The dredging fund was put together after widespread flooding left businesses waterlogged three times in 2012 and left farmland under water for 12 months.
This led to calls from farmers that dredging was needed to prevent land becoming water-logged.
Cabinet member David Hall said: "Whilst we cannot control the weather, I believe it is tremendously important that the county council does everything it can, working with other agencies, to minimise the impacts of such extreme conditions.
"We hope that this contribution from Somerset County Council will encourage others to step forward to support this additional work."
The Environment Agency carried out a study which estimated the cost of dredging to prevent flooding to homes, farmland and the A361 - a main road through the Somerset Levels.
The cost would range from £1.7m and £4.1m to dredge between 1km (0.6 miles) to 4km (2.8 miles) of the rivers Tone and Parrett.
The annual maintenance cost is estimated at about £200,000.