Portishead gun centre blaze confirmed as arson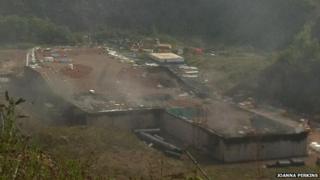 A fire that left an under-construction police firearms centre seriously damaged was started deliberately, police have confirmed.
Avon and Somerset Police also said they were investigating internet claims the fire at the £16m Black Rock Quarry centre was started by anarchists.
The fire, which began on 27 August, was fully extinguished on 9 September.
But Avon Fire and Rescue Service's investigation team remain on-site to assist police in the investigation.
Det Supt Andy Williams said the force had begun "a detailed and thorough investigation" soon after the fire was discovered.
'Meticulous forensic search'
He said: "We brought in a forensic scientist with specific expertise in the field of arson to work closely alongside our own crime scene investigation and forensic teams to get to the root cause of the fire.
"Together, they have concluded that the building was deliberately set alight.
"Our searches for forensic evidence have been carried out in the most meticulous way despite the devastation caused by the fire and our examination of the scene continues still.
"We are under no illusions about the scale of the task we face and are likely to remain at the scene for some time but we will do everything in our power to ensure that whomever is responsible is brought to justice."
Previously an anarchist group claimed responsibility for the blaze, which started in the early hours of 27 August.
The training centre is to be used by the Avon and Somerset, Gloucestershire and Wiltshire police forces.
The facility, which would have contained two indoor firing ranges as well as classrooms, had been due to open in January.
It is part of a private finance initiative deal, worth more than £100m, which will also involve police stations and other operational facilities being built in Patchway, Keynsham and Bridgwater.