Avalon Marshes produces 'bumper crop' of rare birds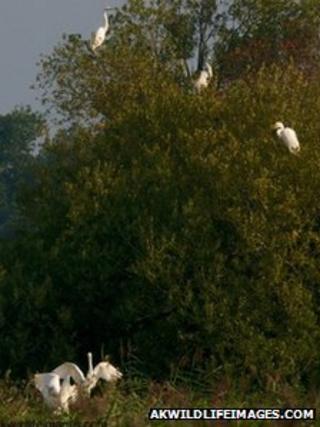 Conservationists are celebrating what they say has been a record-breaking summer for wetland birds in Somerset.
The Avalon Marshes has produced a bumper crop of rare birds that have been recorded as breeding in the area.
Two pairs of great white egrets have been seen nesting at two different reserves, along with little bitterns, great bitterns and marsh harriers.
The marshes are jointly managed by Natural England, Somerset Wildlife Trust, the Hawk and Owl Trust and RSPB.
'Seal of approval'
This summer two young great white egrets have been reared at Natural England's Shapwick National Nature Reserve and three young reared at the RSPB's Ham Wall nature reserve.
Ham Wall has also been host to a nesting pair of little bitterns, where two young birds have successfully fledged.
Ray Summers, RSPB warden for Ham Wall said; "We are all absolutely delighted. Since we took on the land at Ham Wall back in the mid 1990s we've been working hard to recreate a pristine wetland.
"To have all these nesting egrets, bitterns and harriers is a fantastic seal of approval for the work we've done, it really demonstrates the quality of the site for wildlife."