Weston-super-Mare postal workers plan further walkout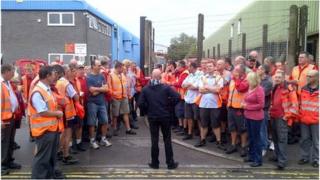 Postal staff in Weston-super-Mare are set to walk out in a dispute over workloads and threatened disciplinary action against some workers.
The Communications Workers Union (CWU) said talks to resolve the dispute broke down earlier on Friday.
A spokesman said Royal Mail managers had "not been fully prepared" for the meeting and questioned whether they had the authority to resolve the issues.
Royal Mail said it was taking the concerns "very seriously".
The one-day strike is due to take place on 12 September.
"We are disappointed the recent talks failed to bring about a resolution to the dispute," a Royal Mail spokesman said.
"We urge the CWU not to call our people out on strike action, which can only hurt our customers and damage our drive to build a strong and sustainable future for Royal Mail."
An earlier one-day strike by CWU members at the Warne Road delivery office took place on 17 August.
CWU spokesman Rob Wotherspoon said management "seemed to be making up the rules as they went along" and were "unable to admit they are using incorrect procedures for disciplinary purposes".
It will affect deliveries in Weston as well as nearby villages including Kewstoke, Wick St Lawrence, Worle, Locking, Bleadon and Hutton.