Bath buskers may face performing permits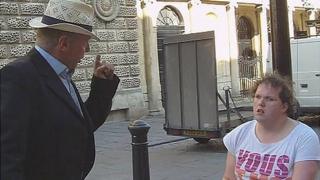 Buskers could be made to apply for permits to perform in Bath following complaints over their volume and playing times.
The council is currently consulting on the best way to regulate street performers in the city.
Busker Gary Millhouse, who was caught on camera swearing at another performer earlier this year, said a permit system would have prevented him getting angry.
But other buskers believe a system of self-regulation is sufficient.
Mr Millhouse, who later admitted his actions, which were filmed and put on YouTube, were "unacceptable" when he lost his temper, said noise was a big issue in Bath.
'Powerful amplification'
"There's a lot of buskers coming round thinking they can go anywhere they like and play music as loud and for as long as they want," he said.
"We've asked buskers to quieten down but all they do is swear at us and completely ignore us.
"We need some sort of structure to say, 'these are our rules and this is what you've got to abide by - if you don't like it leave'."
Edward Mason, a rector at Bath Abbey, said because the abbey was right in the centre of the city it had to "live with all the noise around it".
"It's not so much the number of buskers... but the biggest change for us has been powerful battery amplification," he said.
"You can have a pretty loud performance outside the abbey and this can go on during a funeral or a wedding.
"Amazingly there's almost no legislation that covers buskers... I think we've come to a time where there has to be some kind of regulation for the sake of the buskers as well as those who are resident."