Cancer patient 'manhandled' out of bed by nurse at hospital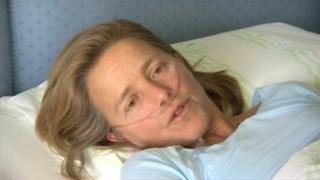 A woman who is dying from cancer claims hospital staff in Somerset manhandled her out of bed and forced her outside in her nightclothes.
The incident happened at Taunton's Musgrove Park Hospital on Monday.
Jane Martel said a nurse "manhandled me and threw me off this bed, she told me, 'we've told you you've got to go, we're not treating you'."
The trust said it always discharges patients with care and helps them get home safely.
'Weak as a kitten'
Ms Martel is in the late stages of cancer and has a failing heart and severe breathing difficulties.
She was admitted as an emergency after she collapsed following a seizure at home.
But after a few hours she was told she was fit to leave in the early hours of Monday morning.
She claimed was not offered any help to get home to Wiveliscombe, which is about seven miles from Taunton.
She added: "I said 'look, I've got no money, no keys, I'm as weak as a kitten and I don't feel at all safe, and how am I going to get home?'
Care needs
"By three o'clock they were getting really impatient and one of the nurses came in who I recognised from before - she was unbelievable."
Ms Martel now says she never wants to go back to her local hospital.
She has now had a meeting with the hospital's chief executive who took the complaint seriously.
Carol Dight, director of nursing and governance, said: "We have not received a formal complaint from Mrs Martel, which has meant we have been unable to fully investigate and resolve this matter.
"We have, however, put actions in place, based on the meetings we have had with Mrs Martel, and have jointly agreed a clinical management plan to meet her care needs."