Cannington residents asked to fund own flood defence scheme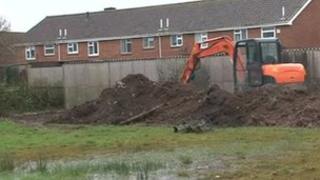 Flood victims in a Somerset village are being asked to contribute £300,000 towards a new flood defence.
More than 40 homes in Cannington, near Bridgwater, were severely flooded twice within a few days last November.
The Environment Agency has offered £2.5m and EDF £500,000 towards the £3.3m scheme but the parish council is now appealing for cash from residents.
Dan Boswell, from the agency, said it was up to local residents "to make sure their schemes do go ahead."
According to the Environment Agency, the village has continued to flood despite an "alleviation channel" being built in 1984.
"I've got every sympathy with the people in Cannington, it is a historic issue that has been going on for a good period of time," said Mr Boswell.
"But we're now in an environment where there's no one agency that can go out and fix problems.
"There simply isn't enough money to go around and it's down to local residents to make up that difference to make sure their schemes do go ahead."
'Live in fear'
In Cannington, the preferred scheme includes building a relief channel to divert flood water away from the brook running through the village.
Colin Allan, chairman of the parish council, said it was a "once in a lifetime opportunity".
"Houses won't be able to get insurance," he said.
"They [insurers] will look at the postcode and say 'You've been flooded three times in fewer than 10 years'.
"So we are absolutely desperate to get this new flooding alleviation scheme because the village lives in fear of flooding."