Hinkley Point pylons route unveiled by National Grid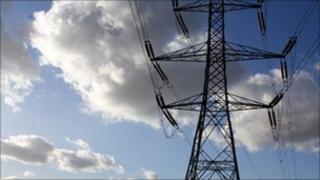 Plans for a pylon route between Hinkley Point and Avonmouth have been unveiled by National Grid.
Local MPs and campaigners fear the pylons, which follow will follow a different route from existing power lines, ruin the landscape and want all the cables to go underground instead.
National Grid spokesman David Mercer said the new 29-mile route would have about 90 fewer pylons than present.
About five miles (8km) of cables will run underground in the Mendip Hills.
The plans will only go ahead if the new nuclear power plant at Hinkley Point is built.
The National Grid has also said it will use new 35m (114ft) T-pylons, which are a third shorter than conventional pylons and will have less impact on the countryside.
Tessa Munt, Liberal Democrat MP for Wells has said: "Whether it's a T-pylon or the old-fashioned one they were proposing, they're still almost as wide as they are high.
"They are still going to be a blot on our landscape.
"But this is the public consultation that everybody needs to respond to, this is the one that the planning inspector will actually take notice of."
Along the Somerset Levels and up to the Mendip Hills there will be a total of 37 pylons, 35 of which will be the new T-pylon design. The other two will be the traditional lattice design.
Mr Mercer added: "The cost of everything we build go on consumer bills so we need to look very, very carefully and minimise our costs so our electricity bills are as low as they can be.
"We know we will have an impact and the way we try to approach that is to come up with the best routes to use new designs to reduce impact and to underground where we think it is responsible to do so."
The plans will open for public consultation for eight weeks before a formal planning application is submitted.