Cheddar reservoir plan amended after public consultation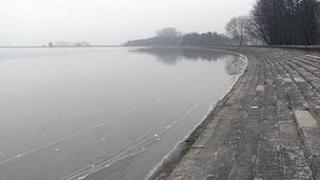 Changes to plans for a second reservoir in Somerset have been put forward following further public consultation.
Bristol Water now plans to move the site slightly to the south east following concerns it was too close to the existing site at Cheddar.
It said it had also made some "quite substantive" changes to plans for the 9,400 mega litre reservoir as a result.
But farmer Sarah Parsons said the reservoir would have a "disastrous" effect on wildlife and plants.
Her family farm is on the proposed site of the reservoir, which she says is prime agricultural land.
"It's taking the heart out of the farm... it means we will have to farm in an entirely different way... it's going to change everything and nothing's going to be the same.
"It's going to have a disastrous effect on the flora and fauna of the area," she added.
'Meeting concerns'
Bristol Water spokesman Jeremy Williams said while not everybody was happy about the idea, the majority of people accepted the need for a new reservoir.
"We've moved the reservoir slightly [south east] because people were concerned the gap between the two wasn't wide enough - in the process saving quite a few rather beautiful oak trees and mature hedgerows.
"The feedback shows we've gone quite a long way about meeting people's concerns [about construction traffic] but we can't hide the fact there will be traffic issues for a relatively short period during constructions.
"We have to have a new source of public water supply and it has to go somewhere... to be quite honest a lot of the land we're talking about floods every year.
"Next we finalise the planning application from the feedback that we've got which goes into Sedgemoor [council] in December and we wait to see what the outcome is," he added.