Taunton deadline for The Brewery theatre takeover plan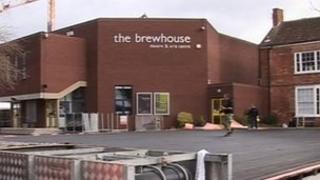 A deadline has been set for groups wishing to takeover a bankrupt theatre in Somerset to submit their plans.
The Brewhouse in Taunton shut in February after its financial position was declared to be "untenable".
Then in July, Taunton Deane Borough Council agreed it would buy the theatre's 61-year lease and transfer the running to a community group.
The authority has now asked interested groups to submit initial business plans for assessment before 23 September.
Those plans will be looked at by a group made up of senior council staff, councillors, consultants and Taunton Cultural Consortium.
A final report will then be drawn up and be looked at by a council scrutiny committee before a final decision is announced.
Chair of the steering group, councillor Norman Cavill, said: "While the council has no intention of running the theatre, significant funds have been committed to it and we need to ensure that a new operator is able to build a robust and sustainable cultural asset for Taunton Deane."