Weston-super-Mare postal workers plan further walkout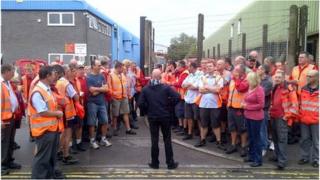 A union representing postal workers in part of North Somerset says it plans to stage another walkout.
Members of the Communications Workers Union (CWU) in Weston-super-Mare have given postal bosses notice of industrial action in September.
The dispute relates to claims of overloaded deliveries and allegations of bullying and harassment by managers.
Royal Mail said it was disappointed industrial action was planned by the workforce.
"Royal Mail is committed to engaging in further discussions to resolve concerns of postal workers based in Weston," a company spokesman said.
"We urge the CWU not to call our people out on strike action, which can only hurt our customers and damage our drive to build a strong and sustainable future for Royal Mail."
'Resolve issues'
A CWU spokesman said a mass meeting of workers from its Warne Road delivery office had agreed to request further action in mid-September.
"Postal workers in Weston are still incensed about what is perceived as unfair treatment of colleagues who are struggling to complete their deliveries on time.
"There will be further strike action unless Royal Mail agrees to reconvene talks where an agreement can be concluded that resolves the issues," he added.
The threat of action follows a one-day walkout in the town on 17 August.
Any stoppage will affect Weston as well as nearby villages including Kewstoke, Wick St Lawrence, Worle, Locking, Bleadon and Hutton.