Ilminster Jurassic marine fossils shown in home town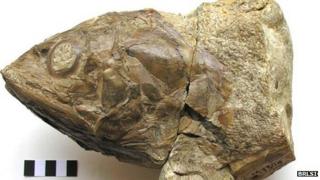 A rare collection of Jurassic marine fossils discovered in Somerset are returning home for a one-off display.
Geologist Charles Moore excavated the fossils during the 1800s at Strawberry Bank, near Ilminster, and other sites around the South West.
In 2010, the Bath Royal Literary and Scientific Institution (BRLSI) started a project to research and restore the specimens with Bristol University.
The exhibition will be held on Friday in the Minster Rooms in Ilminster.
'So beautiful'
Bristol University's James Fleming, who organised the exhibition, said: "We've brought along some ichthyosaurs, some really beautiful marine reptiles and some really beautiful crocodiles relatives.
"You can see all the scales and all the soft body preservation which is what makes this Ilminster collection so beautiful - we've got some fish too."
Charles Moore died in 1881 and in 1915 most of his collection of more than 4,000 fossils was bought by BRLSI.
Some of his collection was given away to the then Somerset Archaeological and Natural History Society and as the years passed, it was believed these fossils had been lost.
But in 2011, the part of the collection which had not been seen since 1915 was rediscovered at the Museum of Somerset by researchers from the BRLSI.
The display is the first time in 130 years that the fossils have been seen in Ilminster.
"The fossils in the deposits contain what we call soft body preservation which means that all of the part of the parts of organisms that are lost by scavengers or by decay are available to be seen on the fossil.
"You can see a 'living' organism, you can see bones and flesh," added Mr Fleming.
Research in the collection has now begun, giving a fuller picture of what life was like 200 million years ago.
Although the exhibition and talks are only being held for the day in Ilminster, the hope is to organise talks for local societies in the future so they can keep in touch with the research being carried out.