Halcon Estate, Taunton 'role model' in cutting crime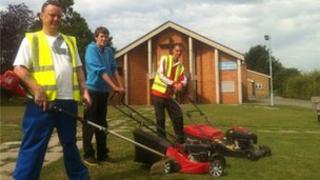 People living on the Halcon estate in Taunton have spent decades troubled by crime and the problems which go along with it.
It is in the 5% most deprived areas of the UK, with unemployment, drug and alcohol abuse, and domestic violence very real issues.
But, five years into a new approach by police and other agencies, reported crime is down 28%, and the Halcon One Team has been nominated for a national police problem-solving award.
It is now being looked at as a model for similar areas in the rest of the Avon and Somerset police area.
Community feel
I spent a morning on the estate in east Taunton finding out more.
Nine o'clock on a Wednesday morning and I meet Sergeant Andy Murphy outside the Acorn Childrens' Centre on Roman Road in Halcon.
In fact he's been at work for hours, he was driving around the estate at 05:30 this morning, checking the lie of the land.
We walk over to All Saints Church, right at the centre of the estate, opposite a small parade of shops. It has a large lawn with benches and a low brick wall.
Unlocking the church doors are the vicar, David Fail, and church warden, Chris Woodgate. Either side of the doors are striking stained glass windows.
"We used to have terrible vandalism on the church," says Chris. "The windows haven't been broken now for about 12, 13 years. But the church works more with the community than it did before, which is what it's all about."
Every week in the school summer holidays craft and sports activities have taken place at the front of the church, organised by the Halcon One Team, with more than 100 children attending.
Leaving the church, to walk to the thrice-weekly Halcon One Team meeting, Andy Murphy's like a pied piper - picking up team members as we walk.
When we get to the meeting room, it is a busy affair.
Around the table are police officers, housing officers from Taunton Deane Borough Council, anti-social behaviour officers, the children's centre manager, the vicar and a local councillor.
The next hour is spent in confidential discussion on rent arrears, neighbour disputes, repeat offenders, debt, domestic violence and - more cheerfully - community events.
One person will mention a surname or address and there are immediately nods around the table.
This is a key part of the Halcon One Team approach.
In the past all these agencies would have been working separately, often all trying to help the same families or individuals.
'Strong friendships'
Now they will make one visit to a home, to try and deal with multiple problems.
By the time we return to the church green, three volunteers are cutting the grass.
They are part of the Link Power Team set up to get unemployed people back to work.
Danny's been out of work for 13 years, he's got paranoid schizophrenia and, until recently, he says he would spend all morning in bed, and all afternoon drinking.
"I was in full-time work before I was diagnosed. I was made redundant and it was like I was put on the back burner," Danny says.
"Since I've been coming to Link Power I don't drink, I'm doing training, I go to college every week and I've been taking my CV around trading estates and shops."
As well as training and back-to-work schemes, Halcon One Team offers lots of "diversionary" activities for young people, cricket, boxing, football and trips to the beach.
There's been a 46% reduction in the number of young people suspected of crime and a 53% reduction in the number of youth victims of crime in the five years since the project started.
"For far too long we, the police, were too distant," Sgt Murphy said.
"We have got some strong relationships, some strong friendships in the community.
"There's work to do, but we are worlds away from where we were 10 years ago, and even where we were five years ago."