Surranna Stonestreet's wall crush death 'accidental'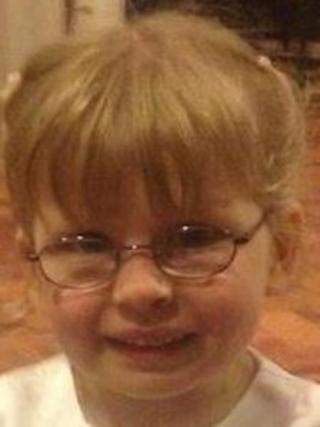 A four-year-old girl died when a garden shed her father was dismantling collapsed and fell on her, an inquest has heard.
Surranna Stonestreet was playing in the garden of her Bath home in May when six breeze blocks came crashing down.
She suffered fatal head injuries and died shortly after arriving at Bath's Royal United Hospital.
Surranna's father, Karl Stonestreet, was dismantling a doorframe of a shed at the time of the accident.
'Blood from her mouth'
Maria Voisin, coroner for Avon, concluded that the death had been an accident.
"I appreciate the family are not in court but I would like to extend my condolences to them," she added.
At the time of the incident, Mr Stonestreet said that he had thought Surranna was playing on a trampoline in the back garden.
"It was my intention to take the shed down," he said in a statement to Avon Coroners Court in Flax Bourton.
"This was because the front wall of the shed was not straight and I wanted to start again.
"The chisel got stuck by the door of the breeze block wall. At that point that wall suddenly fell towards me."
Mr Stonestreet said he stepped backwards to avoid the falling rubble and fell over.
"As I got up I could see that Surranna was lying to the side of me. She had six breeze blocks on her chest. She had blood coming from her mouth," he added.
'Unstable shed'
The inquest was told Surranna's uncle, John Copp, a self-employed ground worker, built the wall in March 2011.
Mr Copp said the wall was 6ft high and 10ft long and comprised a breeze block front, asbestos sides and a corrugated metal roof.
"As far as I am concerned I built a solid structure and that was how I left it," Mr Copp said.
"At Christmas 2012 my brother told me the shed I built had the roof taken off and was a skeleton.
"In my opinion, this would have made the shed unstable. I have been devastated by the death of my niece Surranna."
Mr Copp said the Stonestreet family moved from Bridgend in Wales to the semi-detached home in Haycombe Drive in October 2012.