Bath's lollipop staff honoured at ceremony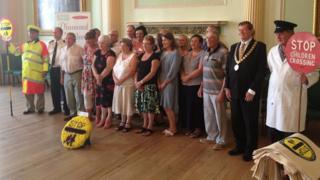 Bath's lollipop men and women have been honoured at a ceremony, as the service marks its 60th anniversary.
The reception at the Guildhall recognised over 40 lollipop staff with a combined 253 years of experience.
Patrols were introduced in the UK after the passing of the School Crossing Patrol Act in 1953.
The chairman of Bath and North East Somerset Council, Liberal Democrat councillor Neil Butters, said the local community was "in their debt".
"It must be possible to put some kind of figure on the lives that have been saved by these people," he added.
"They are as important as that if you think about it. Their motto over the years seems to have amounted to 'safety with a smile'.
"I have been talking to people who have been out in all weathers, for maybe 30 or 40 years, and that shows real commitment to their local community."
'Smile on your face'
A predecessor of school crossing patrols was in place in Bath from 1937.
Seven people were employed by the Bath City Corporation to work four duties a day.
"Although the equipment used by lollipop patrols has changed, the service we provide remains the same," said Terry Cross, the school lollipop patrol at Newbridge Primary in Bath's Charmouth Road.
"Safety comes first, but being able to perform your duties with a smile on your face and in a friendly manner is also vital.
It is a rewarding role that I would encourage people to apply for."
There are currently seven empty lollipop roles across the Bath and North East Somerset area.