Cat cafe plan set out business plan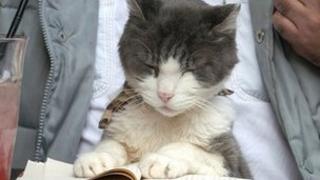 A mother and daughter have set out their vision to build a cat cafe in Bath.
Catherine and Claire Coulthard said Minerva's Moggies cafe would aim to help reduce stress by being able to stroke and cuddle cats.
Claire Coulthard, said: "People come in, they can relax and can be completely undisturbed and sit and cuddle up to a cat."
A cat cafe has already opened in Devon and another is planned in London.
Such venues are already popular in Japan and have also opened in Europe.
Cat worship
Catherine Coulthard has a degree in catering and the mother and daughter team also run their own marketing and design company..
They hope to raise £100,000 through a crowdfunding website, which allows fundraisers to solicit micro-donations to fund projects. If they do not reach their goal, they are in talks with private investors.
Miss Coulthard said they were in talks with the council about health and safety standards.
She said there would 15 to 20 cats but it would be "up to the cats whether they want to come up to you or whether they would rather sit in the corner, and just go 'yeah, yeah, you will worship me'."
A location has not yet been found - but the pair hope to find somewhere in the centre of Bath, which would have enough room for an outdoor cattery.
But concerns have been raised by the charity, International Cat Care.
Chief executive Claire Bessant said: "Loving them isn't enough. All of us know if you have a couple of cats you'll be lucky if they get on with each other.
"If they get a bit stressed when strange people come in and if they don't get on, they may not interact with people as they are quite tense - and we're talking about 15 to 20 cats so it's a lot to integrate successfully.
"In principle we're not against it, but you need to know some really good behaviour knowledge to integrate cats."