Police Federation criticises Avon and Somerset's custody privatisation plan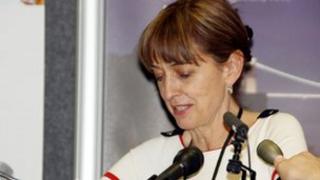 The Police Federation says financial savings made as a result of privatising custody services should not be seen as a measure of success.
Avon and Somerset Chief Constable Nick Gargan believes using private contractors could save the force "hundreds of thousands" a year.
Mr Gargan is also looking to outsource prisoner transport and ID services.
But Steve Williams, from the federation, said services and public safety "must always be paramount".
"We also have some concerns about public accountability and scrutiny.
Police officers are accountable to the law and the law alone... private contractors are accountable to their shareholders and [this is] potentially dangerous territory in policing," he added.
Mr Gargan said savings had to be a reality and were not a choice.
"The budget has been reduced so we need to find intelligent ways of making those savings.
"If someone makes a reasonable profit out of working more efficiently... then I don't think we should object in principle."
If the Chief Constable's plans are approved by police and crime commissioner, Sue Mountstevens, these services will be run by the private sector from next April.
Avon and Somerset has also outsourced other services, such as handing some back office work to computer company IBM as part of the South West One venture with local councils in Somerset a few years ago.
The Police Federation of England and Wales is a staff association for all constables, sergeants and inspectors.