Weston-super-Mare charity bounce 'sets world record'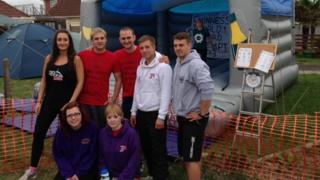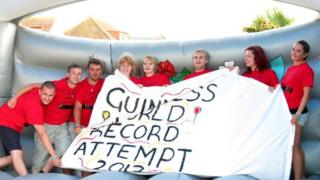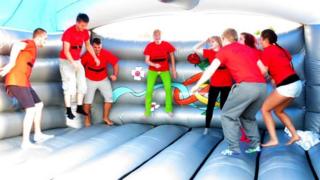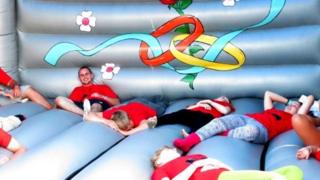 Eight friends from North Somerset believe they have broken a world record after completing a 36-hour bouncy castle charity marathon.
The team from Weston-super-Mare had to beat the previous record of 27 hours set last July in Iowa, USA.
Members worked in 20-minute stints and at least one person had to be bouncing at all times.
Guinness World Records said the team would learn if their attempt had been successful within four weeks.
'Legs hurting'
The event took place over the weekend, at nearby Sand Bay, and each participant was raising money for their nominated charity.
Personal trainer, Kelly Toogood, 23, said as the hours went on the effort required got harder and harder.
She was raising money for Weston Hospicecare.
"By Sunday our knees, lower back and legs were hurting," Miss Toogood said.
"I still can't believe how long we lasted, it hasn't sunk in yet.
"We had to eat so much food to keep going but we had to wait an hour after eating before we could start jumping again," she added.