Further postal strikes planned in Bridgwater for September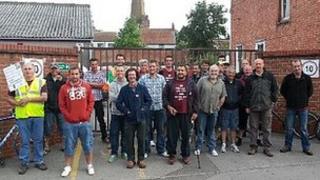 A union representing postal workers in Somerset has given Royal Mail bosses advance notice of a week-long strike in September.
Members of the Communications Workers Union (CWU) in Bridgwater walked out on Monday for their ninth day of action.
The dispute follows union claims of excessive workloads, bullying and money said to be owed.
Royal Mail said it was disappointed industrial action had been taken by the workforce.
A spokesman said contingency measures had been put in place to minimise the disruption and it was hoped the issues could be resolved locally.
"We urge the CWU not to call our people out on strike action again, which can only hurt our customers and damage our drive to build a strong and sustainable future for Royal Mail," he added.
Dave Wilshire, from the CWU, said he hoped by giving notice of industrial action it would give management time to settle the dispute "if they are serious about resolving it".
'Further action'
In a separate and unrelated dispute, CWU workers in Weston-super-Mare are meeting on 27 August to decide their next step.
Mr Wilshire said Royal Mail will be given every opportunity and a reasonable amount of time to resolve the Weston dispute in a "sensible and mature manner".
"If this is not the case then further strike action cannot be ruled out," he added.
On Saturday union members walked out in a dispute over overloaded delivery rounds and managers targeting individuals over performance.
Deliveries were affected in Weston as well as villages including Kewstoke, Wick St Lawrence, Worle, Locking, Bleadon and Hutton.