Anger in Shepton Mallet over plans to move Mid-Somerset Show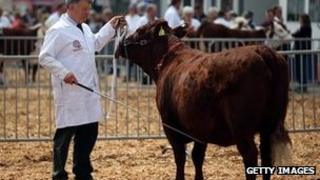 Residents in Shepton Mallet are concerned about plans to move the annual Mid-Somerset agricultural show.
The event has taken place at the town's Showground in Cannard's Grave Road every August for 160 years.
Organisers are considering moving it to a new location outside the town to make it easier to manage.
But the local residents group believes the plans will mean fewer people will visit the town. They also oppose plans to build homes on the current site.
Mendip District Council has granted outline planning permission to build 160 homes and a school on the land.
'Better facilities'
Chairman of the Shepton Mallet residents group, Peter Hillman, said the show is an "integral part of the life of Somerset".
"If it moves farther away from town we are concerned that people will not come and it will not be successful," he said.
"We don't see any need for it to move and we've yet to see any evidence for them to build as many houses as they say they are."
Ian Harvey, chairman of event organisers, the Mid Somerset Agricultural Society said as the owners of the land intend to develop it for housing "we have to be very careful how we respond to their needs and our needs".
Mr Harvey added that the proposed move to a new location would hopefully provide better facilities with permanent on-site power and drainage services.