Bridgwater nuclear business centre's £1.5m funds-bid fails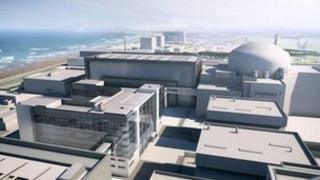 A flagship project to attract nuclear-related firms in to Somerset has failed to secure £1.5m of government funding.
Somerset County Council wants to build a £7m innovation centre for nuclear and low carbon businesses in Bridgwater.
The project hopes to capitalise on the nuclear power plant which is set to be built at Hinkley Point by EDF Energy.
Cabinet member, Conservative David Hall, said: "It is a flagship project and is very, very central in terms of attracting business into Somerset."
But now the local authority will need to provide the money itself to prevent the scheme from collapsing.
'Securing prosperity'
However, the decision to continue funding the project has been questioned by the Taxpayers' Alliance, which campaigns against perceived government cash waste.
Chief executive of the organisation, Matthew Sinclair, said: "I think taxpayers in Somerset should be sceptical about whether the council will get good value for money with this project.
"There are far too many places around Britain, far too many places around the world littered with these kinds of centres built by enthusiastic local governments with the idea that it's going to bring new businesses in.
"But in reality businesses are attracted by all kinds of things in their environment - by whether there's demand in the area or whether there's other firms establishing themselves."
The council has said the Regional Growth Fund, which rejected the bid, was "hugely oversubscribed".
Mr Hall said: "This is the kind of thing we should be investing in. It's about securing economic prosperity and growth, jobs for the future, it's all about Somerset.
"It is a legacy and is the sort of capital project we should be investing in and that still holds good now."
The council now intends to apply for £3.2m from the Low Carbon Energy Innovation and Collaboration Programme European Regional Development Fund for the project.
Building work for the nuclear plant has stalled as developer EDF Energy is still in talks with ministers over what it can charge for the amount of electricity it will generate at Hinkley Point C.