Postal strikes in Weston-super-Mare and Bridgwater affect services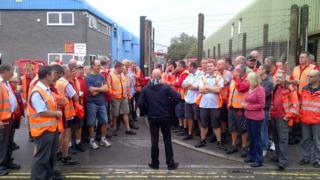 A total of about 240 postal workers have gone on separate strikes in Bridgwater and Weston-super-Mare over workloads and allegations of bullying.
The Communication Workers Union (CWU) said the two strikes were not connected despite their close proximity.
It is the eighth day of strike action to take place in Bridgwater in recent weeks.
A Royal Mail spokesperson said it was "disappointing" industrial action had been taken.
'Managers running amok'
Deliveries have been affected in Weston itself, as well as places including Kewstoke, Wick St Lawrence, Worle, Locking, Bleadon and Hutton.
David Wilshire from the CWU said: "Workers at the [Weston-super-Mare] depot feel that managers are running amok and targeting individuals they perceive are not working hard enough.
"Local managers will not accept the word of workers who perform delivery rounds day in, day out, that they are overloaded and cannot be completed on time.
"It is evident that managers are making up the rules as they go along and ignoring the reality of the situation on the ground."
In Bridgwater workers are striking over what they say are excessive workloads, claims of bullying and money said to be owed.
Val Bodden from Royal Mail said: "It is disappointing that our colleagues have decided to take industrial action and we will do everything we can to minimise the disruption to our customers.
"Royal Mail is fully committed to the process of trying to resolve concerns of postal workers based in Weston-Super-Mare and Bridgwater by continuing to follow the national jointly agreed framework with the CWU."
She added that the company was urging the CWU "not to call our people out on strike action, which can only hurt our customers".
A further walkout is planned in Bridgwater on Monday.