Further Somerset measles outbreak prompts second MMR jab plea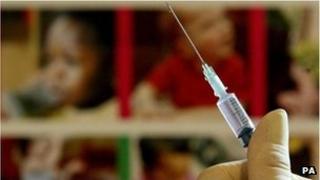 Public health officials in Somerset have said measles is now "circulating more widely" in the county following a further outbreak.
It brings the number of suspected and confirmed cases to 16 since July - all those affected are aged between 10 and 24.
Those affected live in the Street, Glastonbury and Shepton Mallet areas and were all unvaccinated.
Before July there had been just one case so far this year.
Officials are once again "urging" parents to take up the measles, mumps and rubella (MMR) vaccine.
'Discredited report'
Stewart Brock, a public health specialist at Somerset County Council, said officials were doing what they could to make sure the disease does not spread in the county.
"Anyone of any age can get measles if they haven't been vaccinated or had it before," he said.
"Recent outbreaks have been in young people from age 10 to early 20s as many in these age ranges missed out on vaccination when the now-discredited report linking MMR to autism was published when they were young children."
Mr Brock added that public health officials in the county had been working on a catch-up programme for anyone aged 10 to 16 who has not had the MMR vaccine.
"By getting immunised you protect yourself, or your child, but you are also protecting other more vulnerable people in the community who could become seriously ill if they catch the disease."