Cotford St Luke purpose-built church plans approved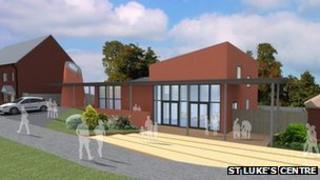 Plans for the first purpose-built place of worship in a 15-year-old Somerset village have been given the go-ahead.
Cotford St Luke has been without a church since it was built in the late 1990s and villagers have spent two years working up the project.
It is hoped the new church will be open for worship in September 2015.
Vicar Alison Norris said: "This will be a dedicated space for the church in which to worship and from which to serve the community."
She said the plans include a main hall, cafe, kitchens, meeting rooms and separate sanctuary space for people to "think, pray, meditate and just be apart for a while".
The next year will be spent raising almost £900,000 needed for the building work to commence.