Organs missing from Somerset man who died in Bermuda, inquest hears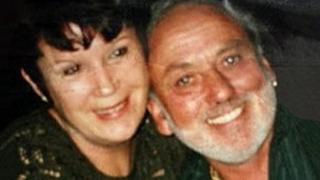 A Somerset man had his internal organs removed without the permission or knowledge of his family when he died in Bermuda, an inquest has heard.
Norman Palmer, 57, had been living with his wife Kathleen for 30 years on the island when he died in April 2008.
Mrs Palmer told the inquest in Wells: "We didn't bury a body but a shell of my companion and soul mate."
The coroner said lack of a Human Tissue Act in Bermuda meant organs could be removed without family consent.
Self-neglect questioned
"This meant the family were not advised of the removal and it only came to light as a result of a further examination in this country," said Tony Williams, coroner for East Somerset.
"I have to say this is not uncommon for bodies to be returned to this country with body parts missing."
This first inquest held in Bermuda ruled that Mr Palmer's death was due to natural causes aggravated by self-neglect.
But the second inquest held in Wells Town Hall questioned the cause of death and ordered a second post-mortem examination.
Mr Williams recorded a narrative conclusion.
He said: "Self-neglect should only be recorded when there is a gross failure to obtain basic medical attention.
"Mr Palmer was taking medical advice and following the advice of his doctor."
Gunshot injury
When he first fell ill he thought it was related his asthma, but an x-ray revealed Mr Palmer still had a gunshot wound in his throat from his days shooting rabbits as a 16-year-old.
The hospital had said Mr Palmer was offered a consultant but he turned it down, as he wanted to see a consultant other than the one offered to him.
He was sent home and a week later he had a choking fit in the shower.
The ambulance was called, but he later died at the King Edward VII Memorial Hospital in Bermuda.
Whenever a body is brought back to the UK, an inquest is held as a matter of course.
The coroner heard that although he received life-saving treatment at the time for his gunshot injury, Mr Palmer later developed fibrosis on the soft tissue which led to the narrowing of airway over the years.
This inquest recorded the cause of death as respiratory failure caused by asthma related mucus plugging on the bronchi and laryngeal fibrosis.