New Wells road names cause headache for officials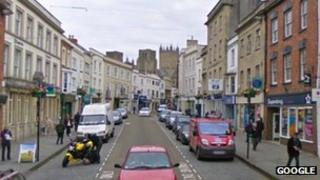 A Somerset council is "over interpreting" its own policy for naming new roads, according to a local mayor.
Wells City Council submitted four names to Mendip District Council for new roads near the A371. All were rejected.
The district council's policy states roads should not be named after "an active organisation or individual".
Many streets and roads in Wells are named after people with an historical connection to the city, such as former mayors and bishops.
'Very restrictive'
A Mendip council spokesman said: "By disallowing the use of a living person's name we hope to avoid the issue of possible future scandal which may result in the street requiring renaming."
However the mayor of Wells, Theo Butt Philip, said at least 75% of the names they suggested were of organisations that had ceased to exist, and of people "who are sadly no longer with us".
"We thought there was some leeway there, but we were subsequently told that their policy was very restrictive and wouldn't encompass that," he said.
The rejected names include that of the former Bishop of Bath and Wells, Jim Thompson, who died 10 years ago. Others would have seen roads named after a doctor and a local farming family.
Mendip Council said naming a road after Mr Thompson was rejected as they needed to seek permission of the late Bishop's estate.
Simon Bailey, from the National Street Gazetteer, which keeps a database of every street name in England and Wales, said other considerations for naming roads included omitting rude words, anything that might be a spelling issue or names that would be confusing to the emergency services.
Wells City Council has since submitted a selection of alternative names to Mendip District Council.