Bath toilet closure 'sit-in' woman hands in petition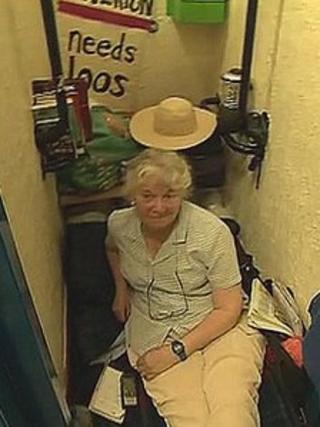 A 67-year-old woman who staged a sit-in at a public toilet in Bath has handed a petition opposing its closure in to the local authority.
Lin Patterson, from Larkhall, is campaigning against Bath and North East Somerset Council's plans to close the toilet in Twerton to save money.
She said more than 2,500 people have signed the petition.
The number of signatures means the council must now discuss the issue at its next full meeting in September.
In December, the council announced a proposal to sell off or close 13 public toilets in and around Bath.
'Caught short'
The authority, which owns 27 public toilets, said the closures could save £120,000 a year.
Last week, Ms Patterson showed her strength of feeling about a possible closure of Twerton public toilet by living in it for three days.
Speaking of the petition, she said: "It's amazing the number of people who have responded, and it just goes to show how important these toilets are for the people.
"It's ordinary people who get caught short when they are away from home."
In a previous statement Bath and North East Somerset Council said: "The council has been clear that some difficult decisions need to be made to address the local impact of spending cuts, such as reviewing some of those services that we are not required in law to provide, like public conveniences."