Taunton Lloyds Bank customers stop machete-wielding raider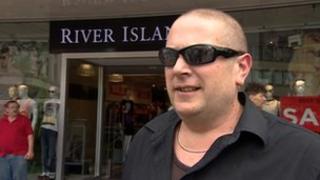 Two customers apprehended a man armed with a machete when he tried to rob a bank in Taunton town centre.
A man wielding the weapon was reported to have run in to Lloyds Bank in Fore Street just before midday shouting "this is an armed robbery".
One of the customers, Darren Frost, said: "We got him in an arm lock and got rid of the machete".
Police said a 32-year-old man was later arrested on suspicion of robbery. No money was taken.
'Restrained him'
Mr Frost said: "We just took [the raider] to the floor and restrained him and just laid on him basically - put him in an arm lock and restrained his legs and just left him there.
"We got rid of the machete - we just took his machete away, we grabbed it off his arm."
When asked if he was scared, Mr Frost said: "No, not really - I don't know why, it was just adrenalin I suppose."
Eyewitness Robert Pink said: "It was all over in two seconds - it took longer for the police to arrive.
"It was the girls behind the check out that I was anxious for really. They're in a terribly vulnerable position.
"I didn't realise until now just how open plan it is and how easy it is for someone to come in and do that."
Avon and Somerset police ask anyone with information or who may have witnessed the incident to contact them.