Woman's public toilet closure sit-in protest in Bath ends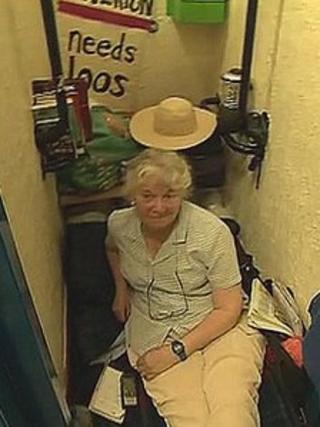 A 67-year-old woman who staged a sit-in at a public toilet in Bath earmarked for closure has ended her protest.
Lin Patterson, from Larkhall, moved into the toilet in Twerton on Wednesday night, the day before it was due to be closed by the council to save money.
But three days after moving her sleeping bag into the loos, she decided to move out on Saturday night.
She said: "Over 2,000 people signed the petition so I think the council knows the strength of feeling now."
In December, the council announced a proposal to sell off or close 13 public toilets in and around Bath.
The authority, which owns 27 public toilets, said the closures could save £120,000 a year.
'Not stopping'
But Ms Patterson, who petitioned to keep another public toilet in Larkhall open, said the facilities served "one of our most basic human needs" and closure "hurts the most vulnerable".
"The council just didn't seem to be listening and seemed to be fobbing us," she said.
"Now our remit is all the toilets in Bath that are under threat and we're not stopping."
In a statement Bath and North East Somerset Council said: "The council has been clear that some difficult decisions need to be made to address the local impact of spending cuts, such as reviewing some of those services that we are not required in law to provide, like public conveniences.
"We are still open to communities and businesses putting forward proposals to run public conveniences at their own cost."