South Somerset 2,500 homes location is reconsidered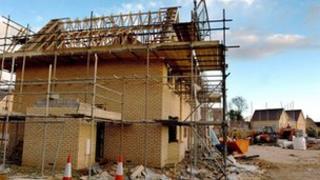 A potential location for 2,500 homes in Somerset has been thrown into doubt by the planning inspectorate.
South Somerset District Council had earmarked south west of Yeovil, near East Coker, in its local plan for housing and jobs growth.
The council has been told its original list of six possible sites needs to be reconsidered.
External consultants have been brought in by the council to complete the work within the next six months.
The planning inspectorate rejected East Coker because he was not convinced the case put forward was robust enough.
All six locations being considered surround Yeovil, with the town's main roads acting as boundary lines between them.
The council carried out an initial sustainability report looking at access to schools, main roads, and issues like whether the land was protected as greenbelt or was unsuitable as it was on a flood plain.
It is this information which will be reviewed by consultants.
'Ghastly housing estate'
Council leader, Liberal Democrat Ric Pallister, said: "They will look at the original six site option, [then] down to three and down to one.
"If the evidence they pull forward is different to what we pulled down before, we'll go where the evidence goes."
It means the urban extension could instead be placed in Montacute, Tintinhull or Chilthorne Domer.
Mark Batstone, a farmer at Chilthorne Domer, said: "We've farmed here for 70 years and every morning when I come out I see the lovely countryside towards Montacute and Ham Hill - why spoil a lovely thing like this?
"There are a load of places they could have built on in Yeovil long before having a look at coming this way."
The council has said placing housing next to existing estates or in villages would not work.
Mr Pallister said: "That's called neck-lacing which is about gluing housing estates outside the old ones and we just keep gluing more and more on.
"There's no community - all you're doing is creating another ghastly housing estate.
"The urban extension would be 40% green space, it would be big enough to have identity of its own but would be attached to the town."