Seventeen county farms sold by Somerset County Council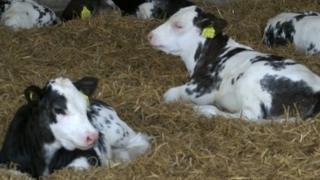 Seventeen farms belonging to Somerset County Council have been sold since the Conservatives took charge in 2009.
The sell-offs have raised more than £17m for the council which is almost a third of what it has to save in total over the next two financial years.
The Tories say they are selling some farms as they do not form part of the council's core business.
They were bought in the 1920s and 1930s, and the authority used to own around 300.
'Negotiations started'
But some Somerset farmers have expressed anger at the sales.
David Crabbe's farm is one on the list to be sold, but he says he cannot afford the £1m price tag the council is asking.
He said he was thinking about buying part of the farm - the yurt site [tented holiday accommodation] - to keep that part of the business going.
"We've started negotiations but everything's been on hold - we're quite happy to stay on as tenants - we've got a very good business going here."
Another farmer said he agreed with the sell-off policy.
David Bennett bought one of the 17 farms that the council has sold.
"You could argue in 20 years' time will there still be such a thing as Somerset county farms?
"It doesn't matter what political party is in, they have to look for money - you've only got to go back through history in the 25 years I've been here."
'Short of money'
In 1997 the previous Liberal Democrat administration sold off two farms.
Speaking then Liberal Democrat Hazel Prior-Sankey said the authority was "clearly very short of money" and it had to assess what was the best thing to do for the people of Somerset."
The 17 sold since 2010 are from a current stock of about 60 farms.
By 2011, the authority had raised £9.6m from sales and had paid nearly £1m compensating long-term tenants.