Traveller site plan for Bath and North East Somerset rejected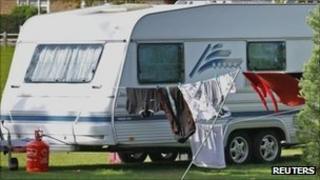 Plans to create a new permanent site for travellers on green belt land in Somerset have been rejected.
Bath and North East Somerset Council's planning committee voted unanimously to reject the proposal to build 12 permanent pitches on private land.
Campaigners had claimed there was inadequate access to the former Pensford colliery site and it would "overwhelm" nearby Stanton Wick.
The council does not provide any authorised sites for travellers.
Councillor Jeremy Sparks said the recommendation from officers was for rejection and that he was "pleased with the decision".
"The council is currently working to put a planning application for the lower Bristol Road site on the edge of Bath," he said.
"I'm not saying they [traveller sites] should all be on the outskirts of a city but if they are going to be in the countryside they need to be at least on a main road and not tucked down a little lane."
Over the past 10 years there have been about 20 unauthorised traveller sites across the district.