Burnham-on-Sea fears EU sea water rules will hit economy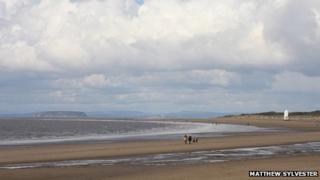 A Somerset town which relies heavily on summer tourism has said tough new EU rules on sea water quality will be "devastating" for the local economy.
Burnham-on-Sea currently holds a Blue Flag award, the mark of the highest standards issued in England by campaign group Keep Britain Tidy.
The Town Team which promotes Burnham as a tourist destination fears under the new rules it would lose the award.
The EU Bathing Waters Directive is due to be introduced in 2015.
It will be the first update of the directive since 1976, when it was brought in.
The new rules will introduce higher standards by being approximately twice as stringent as the current requirements.
Beaches will be classed as excellent, good, sufficient or poor.
'Mud in water'
If water is classified as poor, signs will have to be displayed on the beaches advising people against bathing.
"Because ours is an estuary beach, mud is being thrown into the water all the time, so it can never pass," said Gaynor Browne from the Burnham Town Team.
"It will be devastating for Burnham and for anywhere that has an estuary beach."
Ms Browne has begun a petition calling on the government to opt-out of new ratings system.
The Environment Agency (EA) has been monitoring the Rivers Brue and Parrett, which flow into the Bristol Channel just south of the bathing water at Burnham, and will implement the revised Bathing Water Directive.
"More needs to be done by water companies, businesses, farmers, local authorities and communities to help at risk bathing waters pass the new standards," said Jonathan Ponting, Bathing Water Project Manager for the Environment Agency in the South West.
The EA said of 193 beaches in the South West monitored during the bathing water season, approximately 20 might fall short of the new tougher standards.