Gull-reduction plan in Bath 'not effective'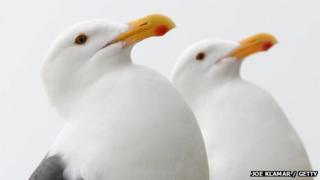 Spending £6,000 a year on efforts to rid Bath of seagulls has had little effect, the council has admitted.
Bath and North East Somerset Council could axe the annual spending on the measures, which include flying a bird of prey in the city centre.
It also plans to stop match funding residents' associations, which use pest controllers to oil eggs in nests.
The Liberal Democrat-run authority is also considering cutting the frequency of gull population surveys.
The meeting of the council's Planning, Transport and Environment Policy Development Panel was told the authority has commissioned a survey each year for the past 10 years.
It was recommended that the surveys, which cost £2,000, be done on a less frequent basis in the future so monitoring is maintained and costs reduced.
'Serious problem'
A Harris hawk has been flown from various locations over the past four years but it remained unclear how effective a deterrent it has been, the council said.
Councillor Lisa Brett, vice chair of the environment committee said she accepted gulls were a "menace" and that something needed to be done.
She said: "Do we really want to be spending money where there is no evidence of it having any impact?
"There's no scientific evidence which shows it might intimidate the gulls and move them on for a short while, or having any long-term impact on the problem," Ms Brett added.
The authority said it planned to continue with its egg replacement scheme in which real eggs are swapped for plastic ones to dupe the gulls.
Other measures include targeting businesses and householders who put their waste out too early and an extension of the trial of gull-proof reusable bags.
But Conservative councillor Geoff Ward said there was a "serious problem" with gulls and that the council "needed to grip it".
"There's waste scattered all over the city [from bin bags] and excrement all over the pavements and street furniture.
"I'd just come out of the meeting at the Guildhall and walked to Pulteney Bridge and there were people feeding the gulls," he said.
"We need a partnership between residents, businesses and traders to educate and inform people.
"For example within 15 minutes of putting out a big bag the gulls would have pecked it open and next thing you have rubbish strewn across the street.
"It's really not rocket science to solve the problem," he added.
On its website the council said although urban gulls are an issue because of noise, public safety, and for health reasons, there was no legislation to allow the authority to control them effectively.
It estimates there are more than 1,000 breeding pairs in the county with a 5.8% increase between 2011 and 2012.