Wedmore villagers invest £250,000 in solar plant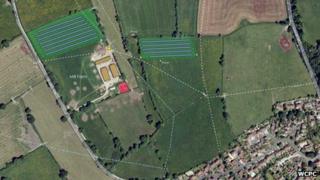 A community offer to invest in a solar energy plant in Somerset has raised £250,000 towards the £1.1m needed.
Wedmore villagers wanting to build two paddocks of solar panels to provide "clean electricity" launched a share offer a month ago to raise the money.
The village has a history of sourcing energy, setting up a gasworks in 1870 and an electric power company in 1908.
The Wedmore Community Power Co-operative group said nearly all of the investors so far were from the area.
Widening the appeal
Its share offer document says 800,000 shares are for sale, at £1 each, but local residents have been given a £250 threshold, whereas investors from further afield have to spend at least £2,500.
A spokesman for the group said he was confident the target would be reached by the deadline of 25 July, but the offer period could be extended if necessary.
He added the plan was always to focus first on the local community, before the group widened its appeal to the rest of the UK.
Work to install the 4,000 panels on the 1.7-hectare (4 acre) and 0.75-hectare (1 acre) paddocks at Mill Farm, between Lascot Hill and Quab Lane, is expected to start in September.
The aim is that it will one day generate enough electricity to support more than 300 local homes.