Time is Precious charity funds maternity suite revamp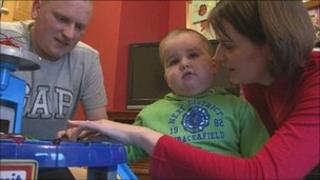 A maternity suite in Somerset has been revamped with funds raised by the bereaved parents of a five-year old boy who died from a brain tumour.
Children's charity Time is Precious was set up in 2011 by Nicky Halford in memory of her son Ben who died in 2010.
The suite has been revamped at Paulton Hospital, where Ben was born.
Mrs Halford said: "I had issues because I couldn't breastfeed as I had breast cancer when I was 21 and my midwife was fantastic at that time."
Birthing comfort
Her second son Tom was also born there.
"When we had Tom, it hit me psychologically again, and my midwife was fantastic, there's no pressure.
"The unit was absolutely amazing, they really got together and helped me.
"I've heard so many positive stories and wonderful things about the unit and the majority of the money comes from within this community and it's giving something back," added Mrs Holford.
Nurses have said the suite is "a more homely approach to the low-risk lady".
Clinical lead midwife at Paulton, Shelia Wilkins, added: "It's got new flooring, a state-of-the-art fan and it's got new furnishings which is really nice."
The suite was officially opened by the charity's patron, actor, Will Thorp who has starred in Coronation Street and Casualty.
He said: "Six years ago, my youngest was born at Paulton and that was before the work was done.
"Even then it was nice to go somewhere local, but now the experience is going to be even better."
Mr Thorp became patron of the charity two years ago.