Medieval site discovered near Wellington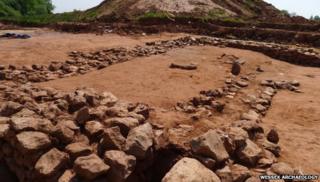 A previously unknown complex of medieval buildings has been unearthed at a site near Wellington in Somerset.
A team from Wessex Archaeology made the discovery at Longforth Farm during a dig organised before new houses are built on the site.
Experts say glazed ceramic roof tiles and decorated floor tiles suggest they were high status buildings and may be part of a religious or manorial site.
Archaeologists described it as a "significant" and "exciting" find.
The excavations have uncovered the remains of stone foundations in a pattern which suggests there may have been a series of buildings set around courtyards.
Bob Davis from Wessex Archaeology said: "This is a significant find and therefore very exciting, particularly as there are no documentary records that such a site ever existed here.
"Preliminary dating of pottery sherds found at Longforth Farm suggest that the buildings were occupied between the 12th and 14th centuries.
"At some stage however, the buildings were abandoned, the useable building materials were robbed out and recycled and the site was forgotten."
Bloor Homes is due to start building work on the site at the end of the month.
Members of the public will be able to visit the archaeological dig on Saturday 13 July.