Golden Oldies charity to cut back due to lack of funds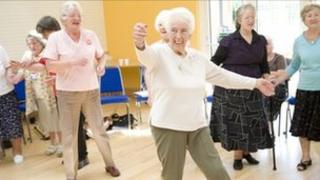 A Somerset charity, which aims to bring older people together through singing, is reducing the number of sessions it runs due to a lack of funds.
Golden Oldies was launched by Bath musician Grenville Jones in September 2007 to promote independence among socially isolated pensioners.
The charity's weekly singing and activity sessions will now be cut back to once a month to save money.
Sir Cliff Richard became a patron of the charity in 2011.
The music project's participants, affectionately known as Goldies, sing along to music from the 1950s, '60s and '70s.
"I am obviously very sad that we have had to make this decision but everyone in the charity sector will understand that sustaining our service is the key factor," said Mr Jones.
"We can develop and grow with a Goldies model that is based on monthly activity and singing sessions with additional events for our Goldies hosted by their local community school."
'Positive effect'
At one point, Golden Oldies ran more than 1,600 sessions a year in the west of England, and over the last 18 months the charity has launched Goldies Cymru in South Wales.
During the next few weeks, sessions in Bath and North East Somerset, Bristol, South Gloucestershire and across Somerset will change to take place on a regular monthly basis.
Sessions such as the monthly Big Sing, which take place at the Carrswood Day Centre in Twerton, will continue.
"There is a huge difference between asking an organisation to support the costs of 12 monthly sessions as opposed to 40 weekly sessions across a year," said chair of trustees Dr Jenny Smerdon.
"We pay our freelance session leaders [£25] and also help with their travel. With costs of music, hall hire, community transport and admin support, a single session can cost on average around £66."
A 2011 study by the University of Bath found that 90% of those taking part in Golden Oldies sessions said it had a positive impact on their wellbeing.