Bird clean-up operation cost Somerset's RSPCA £10,000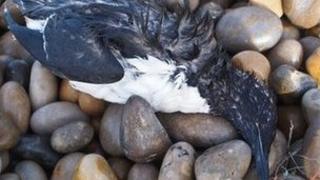 The RSPCA said it spent more than £10,000 dealing with hundreds of seabirds that washed up on England's south-west coast in January and April.
Staff at its West Hatch centre in Taunton rescued and cleaned about 470 birds, mainly guillemots, which were covered in an oily substance, thought to be polyisobutene (PIB).
The birds were cleaned with margarine donated by local supermarkets.
Many died, but about half were released back into the wild.
The RSPCA said the most expensive part of the operation was the disposal of the water they used to clean the birds, which became contaminated with the chemical.
'Costs accumulate'
RSPCA centre manager Peter Venn said: "We can't wash that into the water system so it has to be taken away by somebody.
"Every time we change the water in the tank it's £1,000. So those costs accumulate very, very quickly."
Mr Venn said he hopes that the source of the spill is identified in order for the centre to seek compensation for the clean-up operation.
In the meantime the centre will continue fundraising to replace the money, which came from its annual £500,000 budget.
A spokesman for The Maritime and Coastguard Agency (MCA) said it was "continuing with its efforts to identify the source" of the substance.