Weston General Hospital privatisation plan: Campaign group formed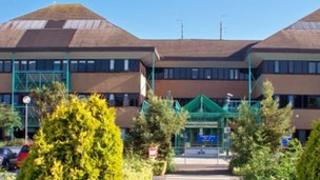 A campaign group has been launched against plans for a private company to share the running of Weston-super-Mare's debt-ridden General Hospital.
The plan is one of a number of options being considered by Weston Area Health NHS Trust, as it tries to comply with new government health reforms.
The complex is £5m in debt and must cut losses ahead of new government rules.
Spokesman Kelvin Macdonald-Fraser is against privatisation and has set up the campaign group Keep Our NHS Public.
The solicitor said he was concerned about what the "implications are to the people of Weston as regards to the future of the hospital".
Eleven bids
He said he will be "raising awareness" about the issues facing the hospital and aims to "get information from the people who are running it about what their future plans are".
Previously Weston Area Health NHS Trust said discussions about its future were "progressing well", and stressed NHS services will continue in the town.
New government rules say all NHS trusts must become foundation trusts by April 2014, thereby proving they can run their services without going into debt and functioning independently of the Department of Health.
As well as possibly entering into a partnership with an external organisation, merging with a foundation trust is another option.
Eleven bids from private companies have so far been submitted, including one from CircleBath, which runs a private hospital near Bath.