Huntsman spider found in banana box at Glastonbury greengrocers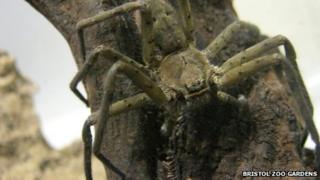 A large spider native to South America was found in a box of bananas in a shop in Glastonbury, Somerset.
The huntsman spider was found by a colleague of Lucas Cox, a greengrocer, while she was unpacking them.
"I heard a loud scream. I thought she was being a wimp but as soon as I saw it I knew it was a huntsman," he said.
After being given the all clear by a vet, "Herbert the Huntsman" has taken up residence at Bristol Zoo Gardens.
'Surprisingly perky'
Mr Cox said he went to his colleague's aid and shook the box. When the spider fell out it reared up on its hind legs in his direction.
He managed to catch it in a jar without getting bitten and took it to Orchard Veterinary surgery in Glastonbury.
Although Herbert is a female, she was given the name because of her moustache.
Mark Bushell from Bristol Zoo Gardens said Herbert was surprisingly perky on arrival and quickly took to her new home.
"The vets did exactly the right thing in calling us.
"Not only can we look after her until the end of her days, but it's also very important for us to categorise any spiders that arrive in the country in this way, in case there are any incidents with bites.
"Now we know of Herbert's arrival we can log the information," he added.
Huntsman spiders' bite can inflict symptoms such as swelling, pain, nausea, headaches, vomiting, irregular pulse rates and even heart palpitations.