Church leaders opposed to Grove Park car park expansion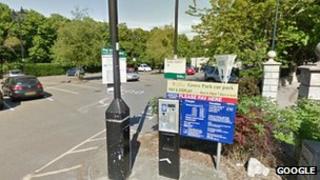 Plans to turn tennis courts in Weston-super-Mare into a car park are being opposed by church leaders.
North Somerset Council wants to redevelop the area by Grove Park to provide more off-street parking.
But an ancient covenant gives St John's Church the final say on whether it can be used for purposes other than sports and leisure.
St John's Parochial Church Council (PCC) said it was opposed to anything other than recreational use.
The decision ultimately lies with diocesan leaders and even if they agree the PCC could still challenge that.
No-one from the Bath and Wells Diocese wanted to comment.
Councillor John Crockford-Hawley said he did not believe there was a need for extra car parking in the seaside town.
"The council argues it needs car parks for the economic wellbeing of the town.
"[In] Weston we currently have adequate on-street parking and car parks for most of the time.
"And you can't prepare for bank holiday traffic as if that was the norm.."