River trust plan for 'mystery' Boathouse Building in Bath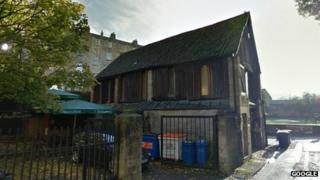 A run-down building near Pulteney Bridge in Bath could be used by the city's new River Regeneration Trust.
The group has asked Bath and North East Somerset Council, which looks after the empty Boathouse Building, for permission to use it as its base.
The building dates back to at least the 1890s, but its ownership is unknown.
A council spokesman said the building is currently without a lease holder and various options for its future are being considered.
The trust, which oversees redevelopment along a 19 mile (30km) stretch of the the River Avon from Dundas Wharf to Hanham Lock, was set up in February.
Chairman of the trust Geoff Dunford met with councillors on Tuesday to discuss the idea of it moving in.
Information centre
"The building sticks out like a sore thumb because it needs some tender loving care," he said.
"The trust doesn't have a headquarters at the moment so what we'd like to do is to renovate it and turn it into a base for the trust, and also an information centre and a museum."
Mystery surrounds the building's history and ownership, but it is known to date back to at least 1898.
One theory is that it belonged to The Bath Brewery Company and was used as a bottle store, but archive and current maps are unclear about current ownership.
The council said it was trying to find out who owns the building and that it had taken on responsibility for its current maintenance.
Various options for its future are being considered, including The River Regeneration Trust as a possible tenant, a spokesman said.