UKIP 'Nazi salute' candidate Alex Wood cleared by police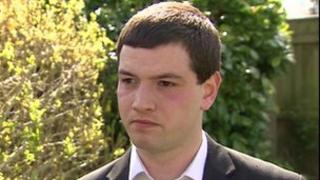 A UK Independence Party election candidate from Somerset has said a police investigation has cleared him of making racist comments.
Alex Wood was suspended from UKIP after pictures appeared of him apparently making a "Nazi-style" salute.
It was claimed the picture appeared on his Facebook page along with racist comments, which Mr Wood always denied.
Police have now concluded the comments attributed to Mr Wood did not appear on his Facebook account.
Officers are continuing to investigate comments placed in his name on a separate site.
'Out of context'
Andrew Bishop, of Avon and Somerset Police, said: "In April, we were contacted by Mr Wood reporting that his Facebook account had been hacked and racist comments posted which purported to be from him.
"This was investigated as possible malicious communications. We have now completed our inquiries and concluded that the account was not hacked and the comments did not appear on the account."
As well as the picture that showed Mr Wood appearing to perform a Nazi-style salute, there was also a second picture showing him clutching a knife between his teeth in front of a union jack.
Mr Wood said he believes a fake internet page had been created and insists the comments associated with the photos were not written by him.
"I think that it is extremely possible that a Facebook group were actually behind putting out these fake screen shots and comments and taking photographs of me way out of context and using them to paint me as this horrific, horrible, neo-Nazi character that a national newspaper made me out to be," he said.
Mr Wood said the photo actually showed him trying to grab a phone.
Speaking at a party meeting on Monday, he said he was considering taking legal action against those responsible.