Thousands of drivers caught passing through Bath bus gates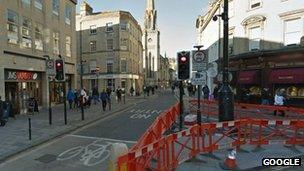 More than 10,000 motorists have been recorded driving through a "bus gate" junction in Bath in the past year.
Bath and North East Somerset council said of those, 7,284 drivers had paid a fixed penalty fine with 13 successful appeals and 684 pending.
The Liberal Democrat administration said the CCTV enforcement had been put in place to ease congestion and make it safer for pedestrians.
The Pulteney Bridge bus gate is operational between 10:00 and 18:00.
During this time only buses, taxis and other exempt vehicles are allowed through junctions at Northgate Street and the nearby Pulteney Bridge.
The figures, covering the period 1 May 2012 to 30 March 2013, were released by the council following a Freedom of Information request made by the BBC.
Drivers caught by the CCTV cameras are issued with a fixed penalty notice for £60 but this is reduced to £30 if paid within 14 days.
If the charge is not paid within 28 days the charge increases to £90.
A council spokesman said it was not possible to break down the figures as to how many of the 7,284 motorists had paid at the £30, £60 or £90 level.
He added it was not possible to quantify the number of tickets issued to, but not paid by, foreign motorists.
Plans for a second bus "gate" on the eastbound side of Dorchester Street have been given the go ahead for an 18-month trial.
It will involve a ban on eastbound traffic on the stretch of road between the bus and the railway station between 10:00 and 18:00.
Critics of the trial said the plan was "poorly thought through" and would "cause chaos" in the city.
Related Internet Links
The BBC is not responsible for the content of external sites.