Louis Theroux conman pleads guilty to pub stay fraud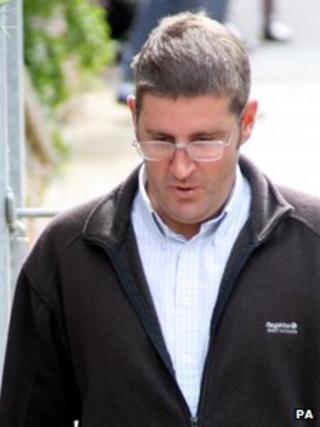 A man who claimed to be TV presenter Louis Theroux to stay in a pub free of charge has pleaded guilty to fraud.
Allan Debenham, 39, spent two nights in the Duke of York pub near Ilminster, Somerset, after giving false details for the BBC's finance department.
South Somerset Magistrates Court heard that Debenham also faked the role of Mr Theroux's personal assistant to order room service of wine and "some fags".
Debenham, of Hamilton Road in Taunton, also booked a taxi in the same way.
He pleaded guilty to two charges of dishonestly making a false representation by claiming he was Mr Theroux.
Speaking about the con on Twitter, the real Louis Theroux said: "I love that it wasn't his appearance that tipped them off but the fact that he asked for fags not cigarettes.
"I am partial to a bottle of cava though."
'Bottles of cava'
The court heard the owners of the pub were defrauded out of £165 and the taxi firm out of a £14.70 fare.
Although Debenham had booked a three-night stay, he was rumbled after two nights by suspicious staff.
Prosecutor Emma Chetland told the court that, on 21 April, a man called the pub saying he was "Louis Theroux from the BBC" and made a three-night reservation after giving incorrect details for the BBC's finance department.
She added: "He also asks for two bottles of wine to be left outside the room. The PA rings again and asks for two bottles of cava and some fags - to use his words - to be left outside the same room.
"The person taking the call becomes suspicious at the use of the word 'fags' rather than cigarettes. They go upstairs and find the door to the room locked.
"They call the telephone number that was left and find it to be unobtainable and they call the BBC who tell them the order number is not one they recognise."
'Put on some weight'
The police were then called by staff at the £70-a-night pub and Debenham was arrested.
Miss Chetland told the court: "The taxi was booked in the name of Louis Theroux and they were told they might not recognise that person as he had put on a bit of weight but they should send the bill to the BBC."
Mitigating for Debenham, his lawyer Chris Ivory said his client had turned to alcohol after losing his job, his partner and his home at the end of last year.
"In desperation he tried it on. He managed to get a couple of nights' free accommodation and he accepts the prosecution case in respect of that," Mr Ivory said.
Sentencing was adjourned until 25 June to allow for the preparation of a pre-sentence report.